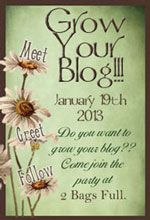 Today I'm joining Vicki at 2 Bags Full for a fun party. The idea is to follow lots of blogs and have them follow you. I've done smaller versions of this before and found some wonderful blogs to read. It was a great way to meet new blog friends. The sign up for this event is closed now, but this is my post to introduce folks to my blog.
My name is Patrice. I live on a farm on the East Coast of the USA. I'm a chef who came from the city. I married a farmer. I've been blogging for three years, as of summer 2013. I am continually amazed at the lovely people I meet because of my blog. Tuesdays are "Chats on the Farmhouse Porch" day. Each week I post 5 questions to open up conversations. After linking our blogs, with our answers, we visit each other and comment. It's fun to share with others, and sometimes we offer each other encouragement or friendship. We have been doing this for 76 weeks! By now there is a small community who "get together" on my porch. Join us! I'll get you a cup of tea or coffee.
Allow me to introduce you to my handsome horse, Wendell. He is a Hafflinger/ Belgian cross. He was named after the agricultural essayist, Wendell Berry.
He likes to drop in on our Tuesday chats to say hello.
Wendell has developed quite a taste for virtual carrots.
The folks who participate in the chat often tell me they
are sending him carrots. While virtual carrots aren't very
filling, he has bonded with some of my guests.
I'm a chef, but I only put recipes here every now and then. I'm a home school mom, but I seldom post about that. There are lots of wonderful blogs overflowing with recipes and home school ideas. I blog to share our farm life with my readers. Sometimes I just post about something that happened in my day, or a topic that I want to talk about. I love to share photos with you too. I hope that you will consider following my blog.
GIVEAWAY
I'm giving away a SURPRISE BOX. What's in it? Now, if I told you that, it wouldn't be a surprise.:) This isn't a trip around my house picking up unused, unloved items. This is me picking things out for you. Not random things. I will visit your blog and find things I think you'd like. If I'm still not sure after reading your blog, I will figure it out. I want it to be something you enjoy opening.
Rules for the giveaway: NONE -Just comment and make sure I have an email for you. Everyone participating in the Grow Your Blog Event will draw for their giveaway on February 1st. So, Random.org or names in a hat will happen that day. I think that anyone visiting this blog can enter. You only need to enter once.