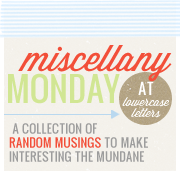 Hello, friends! I hope you all had a good weekend. Here is a little bit of random for the week.
I used to be a real fanatic for yard sales. I could barely drive down the road without pulling over to "shop". I think it was something in the old mini-van I owned. I enjoyed taking the girls out on Saturday morning and buying some fun things for pennies on the dollar. It became an excellent tool to teach them about money and spending. It was a wonderful way for me to get children's clothing in good condition too. We opened part of our business on the farm on Saturday mornings, so leaving the farm wasn't possible. Then gas prices rose.
I went to a yard sale this past weekend and had a wonderful time. It was in the front yard of a quaint little church and there were at least a dozen vendors. I was just returning from taking the oldest to take her SAT and I saw signs along the road. I enjoyed it and saw so many good things that I went home and got the other three girls. I found awesome, like-new clothes which is a great thing when you have three teens who love buying clothes. I got $80 worth of tops for $3. Pretty cool!
Our family loves just about any kind of berries. I was fortunate to be able to get a lot of strawberries from a local grower (who doesn't spray). We brought them home and made a couple batches of jam. It's hard to get the jam to my canning shelves because everyone want to eat it right away!
I have not seen them yet, but C.S.Farmer tells me that there are two funny, awkward, cute baby vultures in our barn. He says they're brown and are at the best stage of their lives regarding their looks. He said their looks go downhill from this point on. Don't worry vultures- it happens to us all! I'll put up some photos when I get them. If I get them! Mom and dad are fiercely guarding "Carny and Roadie" (Carnivore and Road Kill Lover). The parents throw a royal hissy fit when you get near. They hid them under a piece of furniture we stored on the side deck of our barn.
Our family spent the entire weekend chasing cows out of the garden. The four to five acre garden that pays our bills. Any guesses what C.S.Farmer is doing today? Not extracting beef from them! Silly! He's fencing a new pasture so they don't continue to think "the grass is always greener".
Wendell is still the same,but he sends his horsey kisses to all of his friends. !!!