The other day, at work, I had visitors. There were two rabbits near the grassy area where I park my car. I spotted one running wildly around the base of the driveway. When it ran towards a bush I discovered a second bunny. That wouldn't be unusual, but when I went out to put something in my car they ran up to the car and watched. I spoke to them and they just sat there looking at me. They only ran when I got out my camera and the automatic thing on my lens made a small buzzing sound. I went back in the house and assumed they wouldn't be there when I left work for the day. Wrong. When I walked out to my car they joined me. I thought the one was going to ask for the keys so he could drive! That would have been fine with me since I was tired, but the stop at the produce section of the grocery store might have made my day a bit too long.
I wonder if they'll be there my next work day.
Speaking of bunnies- hop- hop- hop!
If you want a fun way to spend a quiet day, stop by and visit some of these blogs.
We all like to have new followers!
Thanks to Tawna and Terry for including me!
Rules are easy, there are only 2
1. Follow

HOST'S

blog and

CO-HOSTS

through GFC
We are the

top 3 links

of the hop!
2nd Co-host

CHANGES weekly

so be sure to follow new co-host if you link up weekly!
2. Grab the button and put it in a post, sidebar, or blog hop page and let us know where it is. This will help the hop grow and gain us all new followers. It's a Win, Win for everyone!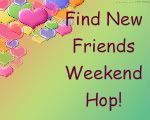 Please play nice and follow our simple rules!
HOP is open
Thursday night at 10pm to Sunday night 11:59pm EST!
I will randomly pick a blog from this blog hop to be next weekends co-host! If I offer it to you and you do not want to co-host then I will pick another.
If you WANT to co-host please e-mail me.
2nd Co-host

CAN CHANGE weekly

so be sure to follow new co-host(s) if you link up weekly!
Please make sure you Follow the top 3 links of hop if you want you link up!