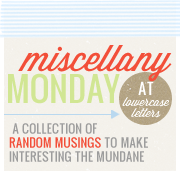 It's time for Miscellany Monday.
Lately, I've been starting Monday off with Meet Me on Monday and Miscellany Monday. These are both things that were started by other bloggers. The first is one that gives you five questions. The other is just whatever random thing you want to share. I thought these would be good ways to meet other bloggers. They are, but they're so much more. They remind me of some exercises in creative writing classes. They get the juices flowing. Mondays are one of those days when most of us need all the help we can get.
This is something different!
If you want my usual 5 randoms, you better go get
another cup of coffee and read the newspaper.
I'm trying something new!
Shocking, Herbert! Did you hear that crazy farm woman? She's
trying something new.
Yes, dear***snore-snore-snore...
Herbert? Did you hear me? This is downright
scandalous!
Zzzzzzzz
Here's funny caption time.
"She's getting carried away with this knitting!"
Seriously, Two of the daughters and I are making hats for children in an orphanage in Romania. The girls are knitting, and I'm whipping up a couple of polar fleece hats on the sewing machine.
Out of desperation, the farmer's wife turned to a new method
of getting rid of her laundry.
Bacon: "Did you see what the farmer's wife left us?"
Chops: "Yes! Wonderful! What is it?"
Bacon: "You silly pig, don't you know?"
Chops:(embarrassed)" I don't get out much."
Bacon: "It's different colors of food. They say
you get more nutrients with different colored food."
Chops: "What's a nutrient?"
Bacon: "Oh, don't worry about it! Just eat the socks
first. I'm getting cable next week to broaden your horizons."
Chops: "Cable? That sounds Yummy!"
"Does this Frisbee make my backside look fat?"
Abbey goat has taken to the Frisbee. Ever since our wonderful game, she has shown lots of interest in the disc. D4 has started feeding her crabapples from our tree and the Frisbee is the plate! Maybe we can teach her to catch it like a Frisbee dog. I don't think so. Those dingle dangle ears would deflect it each time.
Hugs from the goat and me!