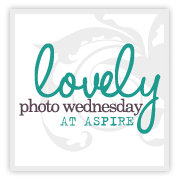 I love the idea of sharing our photography. It's a good thing to do in the middle of the week. Thanks to Hannah at Aspire for inspiring us to share.
I was spoiled with pretty flowers much of the summer.
C.S. Farmer would bring them home from our farmers'
market. Since many of the flowers are spent, I'll look
forward to the wonderful color display that the trees will
give us this upcoming season!